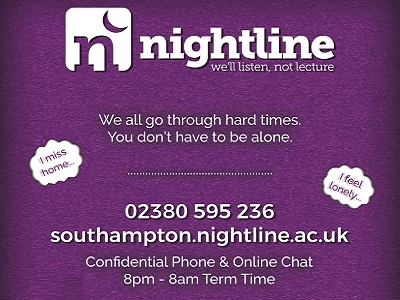 This week is Nightline Awareness Week (14 – 19 November). This is a national event run by all Nightline groups across the UK, to help raise awareness of the work they do around student mental health.
It's now well into the first semester and work will be piling up for everyone across the university. This can be a stressful time for students and it's these tough times where Nightline is here to help you through. Whether deadlines are getting to you, you're having problems with flatmates, or are just feeling down, Nightline are here to listen.
If you have any problems – this week or otherwise – feel free to call the Nightline team on Tel: +44(0)23 8059 5236 or talk online using our instant messenger app'.
The team are here for you every night in term time between 20:00 – 08:00.
We will be on the concourse in building 42 on Highfield campus from 10:00 – 16:00 on Saturday 19 November, so come along and say hello if you're around.